EITANEI OZ
Desert, Hot & Dry
Broiler Houses
Powered by Solar Panels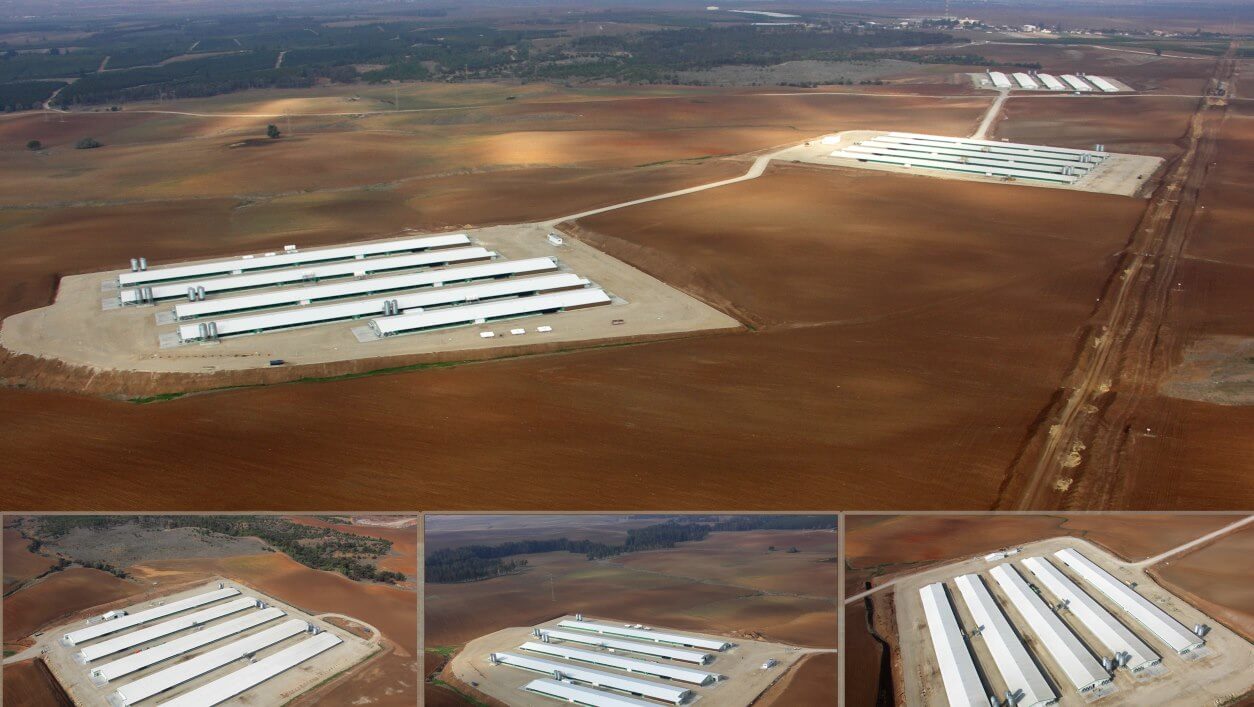 About The Eitanei Oz Project

Eitanei Oz are among the longest broiler farms in Israel, 168×16 meters, and use a unique ventilation system. They are located in the Negev desert and use the natural solar conditions to create electricity and shadow the structures.
Eitanei Oz, situated in the hot Negev desert, consists of 15 broiler houses which grow 645,000 birds and are among the longest in Israel – 168×16 meters. Agrotop designed the houses in order to maximize the growth space of the relatively small project area, while still maintaining high biosecurity standards.
As the houses are relatively large considering the extreme heat conditions, the main challenge was keeping the temperature differences inside the house minimal and supportive of the birds growing conditions. Agrotop used a unique computer-monitored temperature system that operates high capacity tunnel ventilation fans and additional cooling systems. The wind velocity inside the houses is calculated so that it will remain in the birds comfort zone and still carry the heat out.
During the second phase of the project, the roofs of the houses were covered with solar panels that use the naturally high sun radiation of the area to produce 7.3 megawatts
of electricity. The excess is sold to the national grid. The solar panels also shadow the houses and lower the heat load, further improving the economic results.
The project was constructed for the largest broiler grower in Israel, the "Of Oz" company, which has been working with Agrotop for over 15 years. Agrotop designed and constructed an even longer house for the same client – a 300 meter long breeding-house.
Eitanei Oz / a Look From The Inside

What our Clients say about us

"I would like to point out Agrotop's professional engineering, precise production and ability to work under very strict time constraints without reducing the quality of their products."
"The high quality job done by Agrotop led to almost maintenance free projects. We did not have to spend extra money on maintenance during these years. Today, buildings that are 12 years old look like they are brand new."
"Together with Agrotop we constructed broiler and layer projects for millions of birds in UK, Spain, Australia, The Emirates, Israel and many other countries."